Big In Japan
This time in English;
You might wonder why this is in English? Well for several reasons I'm writing this to get the information out to other fellow backpackers, letting my ShorinjiKempo Sensei's and Kenshi friends to read about my experience in Japan 2013. You guys red all about the previous trips I took to Japan 2009 and 2010. Can't say that allot has changed in the Osaka City prefecture, but as I've always said before, Osaka is my second home!
It's been discussed over and over with both Japanese and Swedish friends that Osaka has a very similar "culture" next to the city of Göteborg/Gothenburg where I'm from. And yeah when I say "culture" I don't mean chop sticks, ninjas and dragons roaming the streets, I mean between people and Cities.
My first stay in Japan I was warmly greeted by my first Sensei Ozaki, this was back in 2009, when I practiced Shorinji Kempo in his Dojo. After practice I was treated with a big dinner and drinks at his place which led to allot of very interesting discussions. Ozaki Sensei asked me where I'm from in Sweden and I jokingly replied that I'm from the capitol of Sweden; Göteborg… Which confused him a bit since he knows that Stockholm is the capitol, but without arguing with that joke, about 10 -15 seconds later, his response was;
-"Osaka, also capitol of Japan!"
That line stayed with me forever and since than I had this warm feeling that Osaka has a funny, gentle and giving soul. Much like Göteborg…
So I landed again in Japan Osaka this year 2013 during May, with my friend Tomas. I had the experience from before to avoid the extreme heat I usually land in when I visit Japan. True enough this time we landed in a cool windy country, very surprisingly for me since I never experienced Japan anything than hot and humid.
So anyway my mission this year was to have as much fun as possible, I've been away for 2 Years from Japan, missed it so much and couldn't wait a second until I could get that fantastic Japanese food and beer in me after a 17 hour "flight-jump". Let's just say that Istanbul is something I won't visit if I have a choice in the matter… The worse Airport I've ever been in, late flights, stressed out passengers, big Turkish families having "family parties" on the plane and of course angry cleaners that kicks you out from the toilet because he has a coffee break? Yeah I know it doesn't make sense… Imagine a Airport looking like a Rave party just took place the night before, toilets covered in… Well, poo… And angry employees cleaning it up, rounded up with totally freaked out "athletic" participants in the "Find your Gate Marathon"… A guy actually came running up to me and yelled:
-"GATE 15!!! WHERE IS IT!?"
For some reason, green combat pants, checkered shirt and sweat bag is the National suit of the Turkish Gate keeper of Airports… Or not…
Don't get me wrong, the Turkish plane from Istanbul to Osaka was great! Almost as good as the Japan Airlines Airbus Class.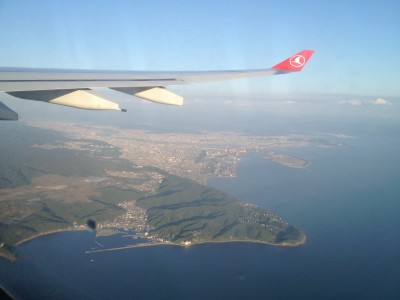 Fig 1: Finally here!
Anyway, Japan! With a sense of freedom from all that Turkish nonsense I had arrived. After a check in at my favorite hostel Raizan South and eating some dinner everything was in order again. Even the employees at the Chinese Restaurants recognized me after 2 years and greeted me!
Fig 2: Told you Tomas, the food is awesome here!
This was Tomas first time in Japan so I felt compelled to be the travel-agent for the both of us. We set of to the standard places which I was familiar with, the Schedule looked something like this:
The Gaijin base package of Osaka
* Find your local post office for money transfers
* Sign in at the Local Gym at Tennoji to get the most benefit of the month package
* Scope out the surrounding shops around Tennoji, Dobutsuen Mae and Den Den Town towards Namba
* Visit Universal Studios and ride everything!
* Visit the Aquarium
* Shop, eat, shop, eat…
* Take a full night at the Barabushka bar in Namba
* Getting your shit together for Shorinji Kempo practice in Kyôto 2 times a week ? This only applies if you are a Kenshi…
* Checking out Osaka Castle Park and the surrounding Temple areas
* Roaming without plans in the city trying to find pimped cars and other cool stuff
Fig 3: CHECK!
With success we covered all of that!
As the days went I showed Tomas the "ropes" of Osaka. How to get around, what was worth seeing and that we should plan for our trips around Osaka. After the first day or so Tomas actually disappeared one whole day when I was back at the hotel feeling a bit sick. After some time, I think it was around midnight, Tomas was knocking on my door, as I opened I saw this "speed-ed" Tomas with a huge grin on his face which reminded me somewhat of my first "explorer-day" in Osaka when I first arrived here.

-"Peter! I've been everywhere dude!"
To summarize the whole deal, Tomas apparently got lost a couple of times looking around for the "car scene" talking around with some people popping up in "tricked out" cars. He was exploring and getting speed-ed by the famous "BOSS" coffee cans you can get all over from vending machines. As I listened and laughed to his experience here from his faulty dialogues with Japanese people to having "new friends", I felt how fun it was to see another friend of mine seeing Japan as I saw it; as a experience in a new world.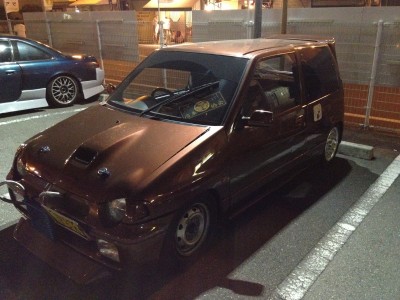 Fig 4: So we found the cars! Allot of them!
In the middle of our schedule some where at the last week I had to visit my Sensei Ozaki and also Kato Sensei that took such good care of me the previous visits in Osaka. This time I had some expensive liqueur and goodies from Sweden to cover some of the expenses they always put out for dinners. But I can surely say that they increased that level even more this time with:
Large dinner at the restaurant for both me and Tomas. Straight next to a Karaoke night with drinks and everything included and then again 2 days later for another dinner out at a very professional sushi restaurant Ozaki and Kato's family. To my big surprise Kato Sensei had took English lessons to improve his language which was very good since my Japanese is horrible. Ozaki Sensei had closed his Dojo a year back and was now focusing on getting in to shape in other ways, he is currently dancing hip hop, which blows my mind! A guy in his age which such strength and life force dancing something I can barely keep up with understanding…
Not to mention that Japanese people can sing… Apparently, because both Ozaki Sensei and Kato Sensei did duets in most songs really… Really… Well!? Next to mine a Tomas more of a ranting incoherent bass-drive… Well let's just say that I was happy that I did that in another country with more understanding people…
Fig 5: The gang!
These families are something else and makes me love life even more every time I meet them… Well the promise of giving them a similar experience in Sweden is now set on contract. I'll be expecting you guys shortly! 😉
My practice of ShorinjiKempo this time was focused this time at the Rakuto Dojo in Kyôto which I've written about before. As usual they where practicing for the Kyôto event where all Martial Arts come to show their skills in form of presentations. Luckily for us, which was me, Tomas and Tor (Tor was on a Japanese round trip with Henrik and Erik at the same time) we had the opportunity to practice with them under the instructions of Morikawa Sensei. The focus was vast, their techniques as usual perfected like clock work which always fascinated me in my visits at their Dojo. Students at the Dojo greeted me like so many times before, the feeling of "returning" to what feels like "my other Dojo" was overwhelming each and every time. One could only say that these feelings could only come from such a warm hospitality that the Morikawa family showed me every time I visit their training.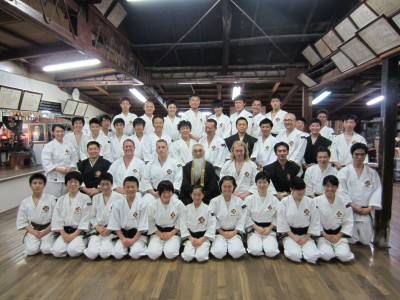 Fig 6: Gasshô

One of the planned trips we did was to visit the Kyôto summer festival, which was supposed to be a big deal. It was a bunch of Japanese people dressing up in old clothes and parading around Kyôto, only reason I'm writing about this as a boring thing is that it was kinda boring… Because you didn't see anything, we got stuck everywhere and there was just to many people around. However as a twist of fate I bumped in to my friend, Henriks brother, which was staying there at the time, the situation was very random and this hardly happens one in a life time in such a overcrowded country like Japan. There we stood, confused and sort of cranky where to find the parade so we actually could see something, as I stood there arguing with Tomas in our native tongue I turned around facing Robin and just managed to say;
-"Oh hey Robin, shit what are the odds of this!?"
-"I though I heard a familiar Göteborgish sound!" he replied
Luckily for us he was out on a stroll with his girlfriend and some classmates, which was easier to follow around. But as I said before, we kinda saw nothing… So highly overrated experience which I would warn all other backpackers out there to stay away from and just watch the pics on Google instead.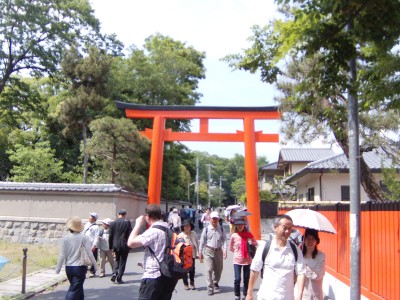 Fig 7: There you go…
Just the opportunity to catch up with some old friends in Japan was fantastic fun, I had the time to have an all out drink competition with Hiroto from the gym which I'm guessing he will not forget in a while 😉 For a Japanese guy he can really swing the drinks with us northerners!
We also took a visit back to the "gai-jin bar" Barabuschka of course, it was as fun as before, this time without the punch out from Aussies (see the last visit blog). We had some fun doing drinking games with complete strangers as the tradition follows when foreigners co-exist at the same table.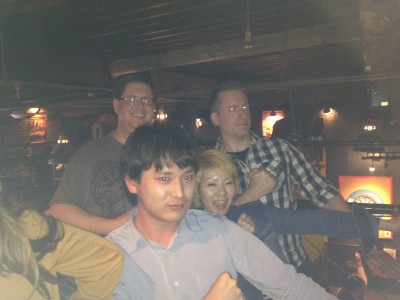 Fig 8: Completely random!
Well most of you has followed my stories before when I've been In Japan and there's not so much more to tell than that my ShorinjiKempo training got more improved, it was fun to have a smaller gang of Swedes with me this time so that everyone could both laugh and respect what we experienced together in this great country.
Fig 9: Sorry we broke Japan…
After our stay at the Raizan South (as always) we got a gift from the personnel, a letter opener in a form of miniature sword on a stand. That just shows how kind even the people you rent a room from…
Well that was the story for this time at my last visit to Japan, don't forget to check out the travel movie I made during my visit!
//www.youtube.com/embed/x0L1cuDKnIsFig 10: The experience!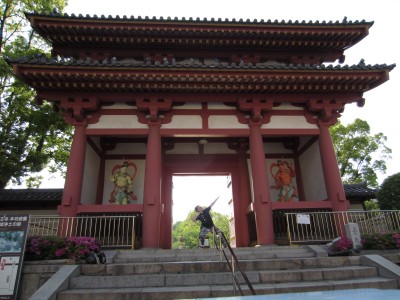 Fig 11: The Apollo Stance at great locations is a must…
Cheers friends!